#3161 Krampus Kills v1.0.3

Genres/Tags: Action, Shooter, Horror, First-person, 3D
Company: DangerousBob Studio LLC
Language: ENG
Original Size: 13.1 GB
Repack Size: 8.6 GB
Download Mirrors
Discussion and (possible) future updates on our Official Downloader
Screenshots (:)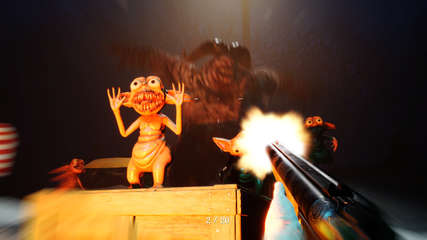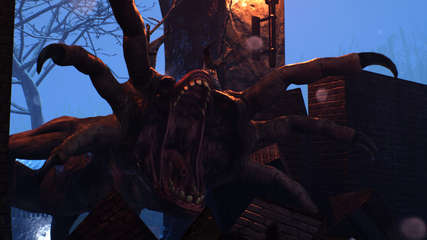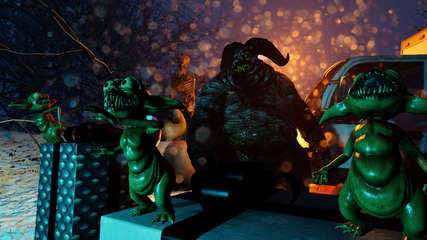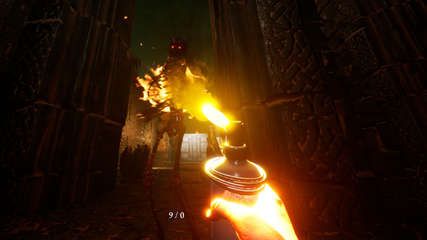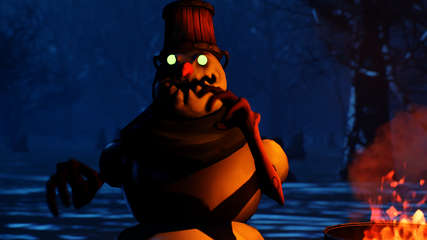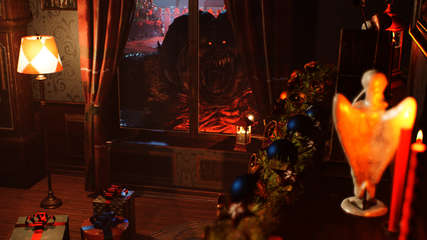 Repack Features
Based on Steam release BuildID 10196618: 13.1 GB, thanks to Crampscatcher for files!
Goldberg + SSE crack/emu applied over, thanks to Crackwatcher!
100% Lossless & MD5 Perfect: all files are identical to originals after installation
NOTHING ripped, NOTHING re-encoded
Significantly smaller archive size (compressed from 13.1 to 8.6 GB)
Installation takes 3-11 minutes (depending on your system)
After-install integrity check so you could make sure that everything installed properly
HDD space after installation: 13.1 GB
Repack uses XTool library by Razor12911
At least 2 GB of free RAM (inc. virtual) required for installing this repack
Game Description
THE NIGHTMARE ON CHRISTMAS!
Krampus Kills is a horror shooter that tells the story of a little brat named Finley, age 10, who lives with his parents in a northern town called Oakville. On Christmas Eve, Fin patiently waits for Santa, but little does he know that the ancient demon known as Krampus, the anti-Santa, has come for his soul! The game features extreme heart-pounding jumpscares, multiple locations, and intense Christmas-themed Horror as Krampus will track the player down, follow footsteps in the snow, and smash through walls to bring his new soul to the underworld!
Who is Krampus?
Krampus is the shadow of Santa Claus, and he takes naughty children's souls to the underworld. Krampus is one of the most powerful underworld demons. During your adventure into terror, you will discover the ancient scrolls of Krampus, which are filled with lore.
Game Features
The definitive game made for horror streamers: Krampus Kills was made after watching hours of online streamers and analyzing what viewers enjoy most. The game is filled with jump scares, challenging puzzles, and horrifying monsters as well as hidden memes and jokes to give players a laugh along with a scare. Players are encouraged to post gameplay online!
Fight the Elves of Darkness: A large cast of hideous monsters awaits you in Krampus Kills. The Christmas demon raises the dead on the night of his arrival. His demonic elves will run at you as cannon fodder, while snowmen rain down icy artillery from afar. Zombies lurk around every corner, ready to swarm. Finally, we have Krampus himself, who pursues the player in a Mr.X fashion through the sleepy town.
Gameplay and features: Gameplay ranges from sneaking through tight corridors of your parent's 5000 square foot New England home to running and gunning in the sewers beneath, and exploring the vast haunted forest in the little town of Oakville. The gameplay focuses on jumpscares and story lore elements explaining the myth of Krampus. The game gunplay is based around your double-barrel shotgun, which is your primary weapon. Krampus AI is highly aggressive and challenging for players to learn to avoid. At its core, the game is a "pursuer" horror game. With this purchase, you will get the main story game of Krampus Kills. Total game playtime is about 2-3 hours for casual gamers. Gameplay can be set to different difficulties and the game features achievements along with ending rankings and time for speed runners. The game features a survival mode that can be unlocked! Play for Achievements and have a blast. Krampus features a dynamic difficulty AI that will get harder or easier based on how well you play.
Nightmare Mode: The game features a Nightmare Mode that is unlocked once you beat the game. Nightmare mode allows players to challenge themselves with a version of the game that has completely new enemy spawns and a secret ending!
Survival Mode: When you beat the game you can unlock the Survival Mode. Survival mode (also commonly referenced as horde) is a mode where you must survive as long as you can against endless waves of enemies! Test your skills and unlock the 15-minute survival achievement!
Hide and Seek Mode: Hide and Seek is unlocked by default and features an open map where players must sneak around a giant forest with Krampus on the loose! Krampus has put a spell on you and you need to destroy 3 grandfather clocks to escape the forest. The game mode randomized item locations when you play and features an achievement if beaten.
Dynamic Difficulty: The game features 4 difficulties. Nice, Normal, Naughty, and Nightmare. However, there is also a hidden dynamic difficulty that will adjust the game difficulty based on how well you are playing.
Replay Factor: The game features different paths the player can take and a secret ending as well as unlockable cheats to offer replay value.
Technical features: Krampus Kills also includes full controller support. The game features beautiful 4k textures and targets a frame rate of 60 FPS. Levels are designed to run smoothly on both high and low-end computers. The game features an extremely detailed options menu for graphic settings so players can adjust the graphics to work with their machines.
If none of the links above are working, please contact us and we will take care of it quickly so you can get back to it 😉
.
How to download Krampus Kills – v1.0.3 – CrackedFull.me Repacks in a couple clicks?
1. Use any of the buttons above. If the official link is not working, get it from the alternative one.
2. Open our free downloader and choose Krampus Kills – v1.0.3 – CrackedFull.me Repacks from the list.
3. Choose a folder where Krampus Kills – v1.0.3 – CrackedFull.me Repacks will be installed.
4. Pick between 6 servers where you want to download from.
5. Hit download. After a couple minutes, you will be able to press Install now.
6. The process is fully auto, so you should already have by now Krampus Kills – v1.0.3 – CrackedFull.me Repacks installed on your PC.
Go to "How to download" page to get more info on how to get our free downloader and be able to install any of the software listed at our website. You can contact us by clicking here.