#2487 SpellForce 3: Reforced v82637

Genres/Tags: Action, RPG, RTS, Isometric, 3D
Companies: Grimlore Games, THQ Nordic
Languages: RUS/ENG/MULTI8
Original Size: 56.2 GB
Repack Size: from 15 GB Selective Download
Download Mirrors
Discussion and (possible) future updates on our Official Downloader
Screenshots (:)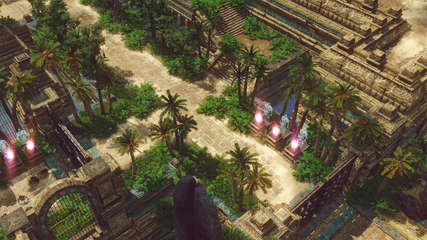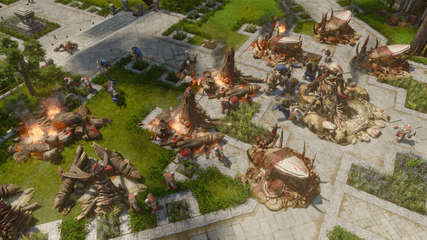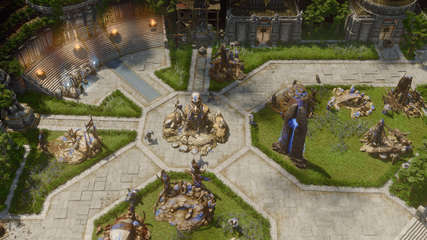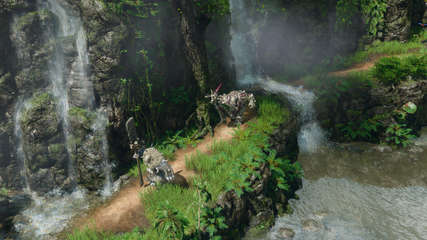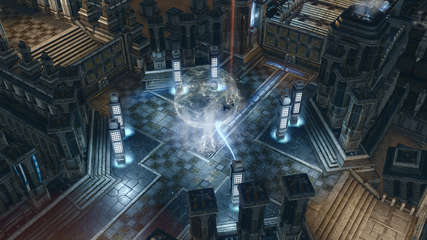 Repack Features
Based on SpellForce.3.Reforced-PLAZA ISO release: plaza-spellforce.3.reforced.iso (59,929,296,896 bytes)
SpellForce.3.Reforced.Update.v82637-PLAZA (367 MB) applied over
100% Lossless & MD5 Perfect: all files are identical to originals after installation (ONLY when installed with all components)
NOTHING ripped, NOTHING re-encoded
Selective Download feature: you may skip downloading and installing of German voiceovers, Editor+Mod Tools, Legacy Edition of SF3 and Glossary/Tutorial videos either in original or recoded quality
Significantly smaller archive size (compressed from cumulative 56.2 to 15|31.9 GB, depending on selected components)
Installation takes from 40 minutes up to 2 hours (depending on your system and selected components)
After-install integrity check so you could make sure that everything installed properly
HDD space after installation: up to 70.3 GB (93 GB during installation)
Language can be changed in game settings
At least 2 GB of free RAM (inc. virtual) required for installing this repack
Game Description
SpellForce 3 – The perfect blend between RTS and RPG!
It is the year 518. The rebellion of the renegade mages, known as the Mage Wars, has been quashed by the Crown. However, it was a Pyrrhic victory: Whole regions have fallen into anarchy, refugees roam the lands in search of shelter, and a mysterious, deadly plague called the "Bloodburn" has arisen and is spreading rapidly.
In times like these people cling to any sign of hope they can find. The Purity of Light, led by a charismatic man called Rondar Lacaine, claims that mages are the source of all misfortune – and that only the second coming of Aonir, the father of all gods, will return Eo to its former splendor.
The story takes place before the acclaimed SpellForce: The Order of Dawn.
Reforced Edition includes the following new features:
Enhanced campaign experience
Improved RTS mechanics and reworked RTS faction (Humans, Orcs and Elves) designs, introduced in the expansions Fallen God & Soul Harvest
Updated Skilltrees with new spell mechanics introduced in the expansions
Improved Questflow
Improved loot distribution for a smoother progression
Reworked crafting
RTS AI Balance overhaul
Complete rework of the hub for minimizing downtimes
Complete purge of campaign/quest logic issues
Improved Coop Mode
Visually and functionally enhanced User Interface used in the expansions
Full Gamepad Support for controls and UI
A new skirmish map "Bitter Canyon" set in a mountainous environment
Journey Mode: An additional game mode similar to the original SpellForce's "Free Game Mode", providing more than 20 hours of unique content and a lot of replay value. Can be played in Coop!
Journey Skirmish: Play PvP skirmish matches against other players with your journey heroes
Arena Mode: An additional endless game mode where you start with a fresh character, fight against waves of monsters, and buy loot and spells from merchants to compete with other players in the leaderboards which can also be played in Coop
Improved Mod Support and mod support for the new Journey and Arena modes. Create your own Journey or arena maps and share them with the community.
Game Features
Innovative Mix: Unique gameplay blending RTS and RPG naturally together
Create & Customize: Create your own hero and choose between distinct skill trees
Build to Fight: Raise your own army and fight epic mass battles
Epic Storyline: Immerse yourself in a rich world – Unravel the secrets behind the current situation in Nortander. Explore Eo, a fully-realized world filled with interesting characters and heart-wrenching stories.
Make new friends: Assemble your party from a diverse cast of companions that not only complement your skills in interesting ways but also have an impact on the narrative. Manage their skills and equipment to ensure victory on the battlefield.
Choose your side: Strengthen and command one of three factions – Elves, Orcs and Humans. Prepare your troops and fight the mother of all battles. Play strategically, taking advantage of terrain, troop formations, visibility, scouting, etc.
Experience an epic tale: Enjoy a fully-voiced 30+ hour campaign on your own or with friends in the campaign coop mode. Face opponents of all skills in the online battles.
Multiplayer: Strong multiplayer component with various modes – Compete against each other in the PvP and Domination mode or play cooperative either together on one faction or classic where everybody plays a faction.
Selective Download
You can skip downloading of German voiceovers, Editor+Mod Tools, Legacy Edition of SF3 and Glossary/Tutorial videos either in original or recoded quality. Here is the list of selective/optional files:
fg-selective-tutorials-original.bin (original tutorial videos are shown in a small window during gameplay)
fg-selective-tutorials-recoded.bin (recoded, much smaller tutorial videos are shown in a small window during gameplay)
fg-optional-editor-and-mod-tools.bin (Editor & Mod Tools)
fg-optional-german.bin (German voiceovers)
fg-optional-legacy-edition.bin (Original SpellForce 3 game)
In example, if you want to launch the game with German UI/Subtitles/Voiceovers and with recoded tutorial videos – skip all "selective/optional" files, but download fg-optional-german.bin, fg-selective-tutorials-recoded.bin & all main files (01-06).
If none of the links above are working, please contact us and we will take care of it quickly so you can get back to it 😉
.
How to download SpellForce 3: Reforced – v82637 in a couple clicks?
1. Use any of the buttons above. If the official link is not working, get it from the alternative one.
2. Open our free downloader and choose SpellForce 3: Reforced – v82637 from the list.
3. Choose a folder where SpellForce 3: Reforced – v82637 will be installed.
4. Pick between 6 servers where you want to download from.
5. Hit download. After a couple minutes, you will be able to press Install now.
6. The process is fully auto, so you should already have by now SpellForce 3: Reforced – v82637 installed on your PC.
Go to "How to download" page to get more info on how to get our free downloader and be able to install any of the software listed at our website. You can contact us by clicking here.